Whether you're running a startup or an enterprise, handling too many things at once can take a toll on your sanity. This is why you always need professional business management software to help you smoothly glide through your daily operations.
To serve distinct business needs, there are dedicated business management tools present in the market. But these tools can be really deal-breakers if they start failing you at any point. Therefore, it's important to understand what you want to do with the tool.
To help you navigate through the endless ocean of business management software, we've compiled and categorized a list of the best ones among them according to the purpose they serve.
To make the research easy for you we have compiled a list of the 22 best business management software solutions available in the market.
1. Best Project Management Software – nTask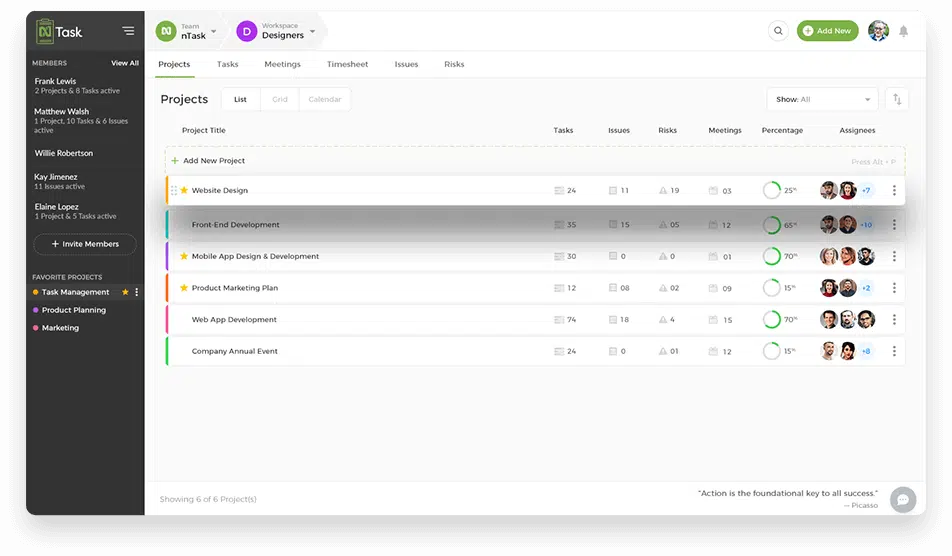 Forget about effective business management without using a dedicated project management tool. That's why we're starting off the list with nTask. This project management software comes with a multitude of features to help you complete your business projects successfully.
nTask comes with powerful native modules that provide a multi-dimensional solution to all your project needs. A single platform to plan, collaborate and monitor your project performance without switching applications. With nTask, you can get a holistic view of what lies ahead in your project lifecycle.
Through beautiful Gantt charts and built-in timesheets, the tool also allows you to track your project performance seamlessly.
Let's see what you can accomplish through nTask:
Top Features
Create and manage your projects through a systematic workflow which allows you to add things as you move along with the project
Use it as a to-do list app and assign tasks instantly to your team members and make roles transparent
Automatically repeat tasks by setting task recurrence according to a frequency of your choice
Execute successful team meetings through a powerful native meeting management solution that lets you take control of your meeting details with more precision
Create and associate issues with your respective projects and resolve them proactively through smart issue metrics, like issue severity and issue priority
Safeguard your project from potential hazards by documenting risks earlier in the project lifecycle
Monitor your project performance through built-in Gantt charts and auto-generating timesheets
Communicate with your team members and provide timely feedback through comments on tasks
Create your own CRM with nTask Custom Fields
Pricing Plans
nTask comes with three plans:
Free plan: unlimited tasks, unlimited meetings, timesheet reporting, and unlimited workspaces
Premium plan: starting at $3 – unlimited projects and Gantt Charts.
Business plan: starting at $8 – unlimited Risk management, and Custom Fields.
2. Best Team Communication Software – Slack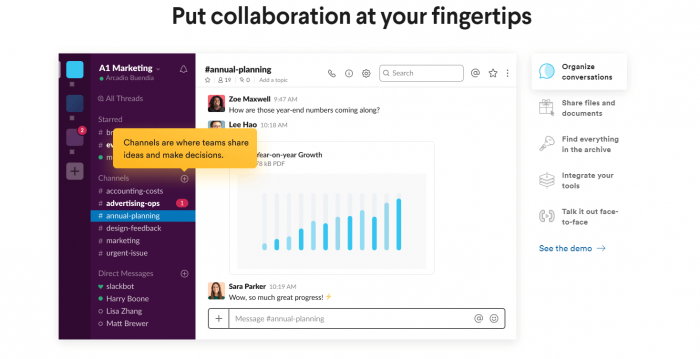 Slack is where team collaboration is. No matter at what stage your business might be, the chances of information slipping through the cracks is real. Save yourself the horror of miscommunication and choose Slack as a professional team collaboration tool.
Whether you're onboarding a new employee, sharing critical files, planning your next meeting, or simply exchanging routine messages, Slack has you covered! With distinct channels for multiple teams, Slack not only makes team communication easier but better.
Not only this, but Slack also comes with hundreds of integrations to serve your respective project needs. Through these integrations, the software makes sure you don't have to constantly switch applications for executing basic business functions.
Key Features
Specific channels for teams, projects, or topics
Hundreds of third-party application integrations
Search option for instant access to desired messages
Customized availability statuses
In-app notifications
Pricing Plans
Free and paid plans. Paid plans start from $6.67
---
3. Best Financial Management Software – FreshBooks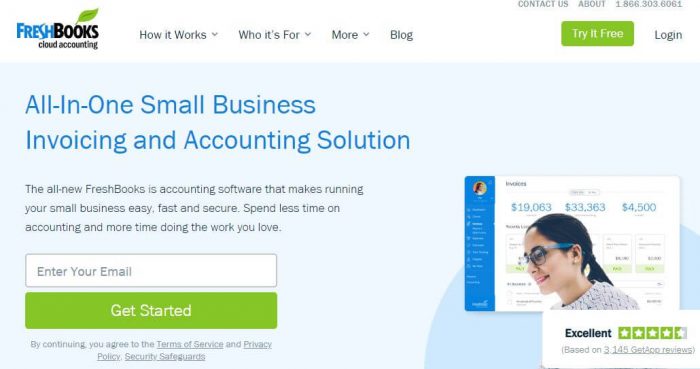 Quite a popular tool for invoicing and accounting, FreshBooks is one of the best small business management software when it comes to financial management. Coming with a complete suite of accounting features, FreshBooks provides a fast and reliable solution for creating quick invoices, tracking expenses, and much more.
Through native time tracking, you can easily monitor the time your team is spending on tasks and bill your clients accordingly.
Not only this, but the tool also facilitates project management through an elaborate feature set for effectively handling project-related activities. Few prominent features include centralized file location, team chat, and project assignment.
Key Features
Expense tracking
Time tracking
Invoicing
Cost estimates
Accounting reports
Dashboards
Customized team permissions
Team chat
Pricing Plans
The tool comes with paid plans which start from $15 per month. All plans come with a free trial of 30 days.
---
7. Best Cloud Storage – Dropbox
This is where Dropbox comes into play.
It is one of the most popular cloud storage tools available in the market. Easy to set up, this business management software helps teams keep all their data in one centralized location for quick and instant access.
The software comes with multiple built-in tools to streamline other business operations too. For instance; Dropbox Paper allows for quick note-taking and to-do list management.
Key Features
Files storage
Files sharing
Custom access controls
Integrations with other applications
Pricing Plans
Dropbox is a paid tool and the plans start from $8.25 per month for individuals and $12.50 per user/month for teams.
---
8. Best Customer Support Software – Intercom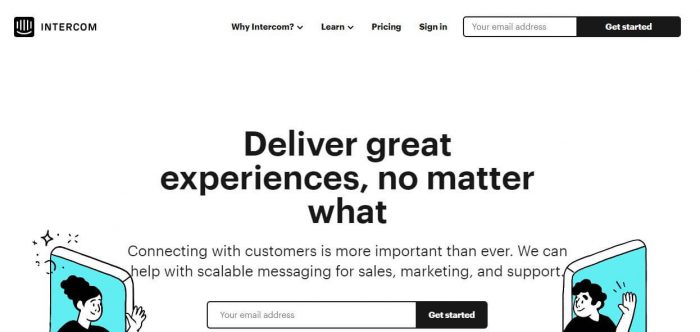 Customer support is one of the most important things to run successful business operations, which is why the 7th tool we have in this collection of best business management software is Intercom.
Combining artificial intelligence with user insights, Intercom allows you to automate the way you communicate with your customers. The tool facilitates this through customer segmentation and customer profiles.
It also enables you to manage and track customer requests using a single platform through features of live chat, and targeted personalized messages.
Key Features
Live user data
Real-time performance tracking
Live Chat
Instant messages
Email campaign creation
Behavior triggered messages
Customer segmentation
Customer profiles
Third-party application integrations
Pricing Plans
Intercom is a paid tool and the plans start at $136 per month. The plans come with a free trial of 14 days.
---
9. Best Business Recruitment Software – BambooHR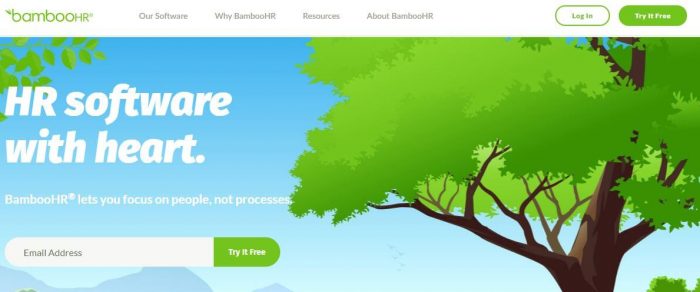 BambooHR not only works as a nifty business management software for guys at the HR department, but it also serves as a great asset to professional head hunters. The in-house capabilities of this program can be surmised as a fully functional employee profile management tool.
You get to manage your "assets" according to their performance metrics, most recent peer reviews, employee onboarding, and off-boarding activities and vice versa.
It is safe to say that salient features of this software are to manage employee profiles through a centralized, constantly updated, cloud database alongside the added benefit of being able to update individual's photos, certifications, etc.
With BambooHR, human resource managers no longer have to rely on storing important employee and organizational data in conventional cupboards anymore. Everything is consolidated, managed, and can be retrieved with the convenience of a few clicks.
Managers can further set permission levels, and employee permissions such as; when they can take vacations off, benefits, enrollment programs, etc.
Key Features
The latest version comes with a bundle of reporting metrics
Standard equal employment opportunity reports
Ability to add multiple permission levels to employee cards for privileged peer review
3rd party benefits, medical plans, offboarding plans, and much more
Ability to track and consolidate individual employee performance reports
A new applicant tracking system
Employee absence and activity summary
Pricing Plans
The basic plan starts at $99/month. Depending on the size of your organization's needs, you can send a personal email to BambooHR representatives for a custom quote.
---
10. Best Business Sales Management Software – Pipedrive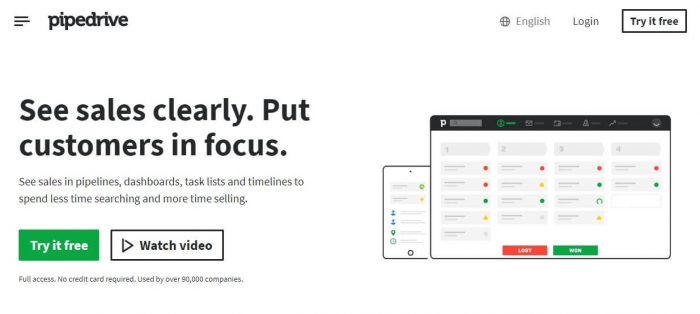 Pipedrive has secured multiple user choice awards during the last two years as being a resourceful asset for CRM software end-users. Although the extensive list of features has a narrow-to-wide scope, we can sum up Pipedrive's remarkable usefulness as a highly responsive sales management system for sole proprietors and small businesses alike.
When Pipedrive was still in its infancy, they had to consult with professional sales market respondents to make the final version of the software more user-friendly and professional. For a majority of users, this program is more of a 'dream come true sort of thing because of its sleek, straightforward, and easy-to-retrieve functionality.
Setting up accounts for first-time users only takes a few minutes. You can fill in all your individual sales-oriented project requirements as you go along. Top it all off with an automated integration with Google Calendars for pop-up reminders at appropriate dates – and you are looking at a fully-fledged third-party business solutions system.
Key Features
Compatibility with portable mobile devices for uninterrupted sales project management
Ability to set up the company and individual goals
Monthly, weekly or custom time scale milestone settings
Google Contacts and Google Calendar integration
To some degree, the API can be configured, depending on your sales portal
Excellent customer service alongside 24/7 multi-language support
Pricing Plans
Pipedrive is a paid program, which means that the modules are broken up into different tiers. You can go for a basic silver plan at $12 per user/month.
For advanced features that offer added storage capacity, and multi-user support on the same license, and vice versa, the Gold & Platinum plans are worth checking out at $24 and $50 per month.
---
11. Best Inventory Management Software – Inflow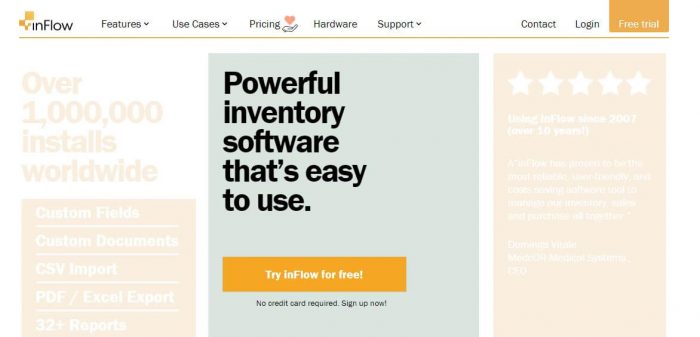 As the name suggests, Inflow primarily serves the needs of inventory managers who wish to get by with a quick response tool that can store and retrieve warehousing-related information on the go. Having said that, we believe that Inflow is an ideal addition to medium and small business owners who are, or have been, on the lookout for inventory tracking solutions.
Inventory management is also deemed an "art" because of the several complications involved as the business expands. If you are a small startup owner who has a handful of product batches stored up in your warehouse, you might be relying on committing things to your memory. It is a good habit, but what if the product demands spikes and you have to deal with only a handful of resources and tons of inventory management hassles that are bound to hit the sales?
Inflow functions as a desktop installer application, but it does have a backup system for easy information retrieval in case the computer hard drive suffers storage loss or vice versa.
Key Features
Ability to manage individual inventory items through RFID tracking
Complete integration with different bar code styles
Inventory optimization according to sales and demand charts
Order management, entry, exit, and delivery reports for customized client experience
Sales vs. break-even point analysis
Single customer purchase history, and order tracking. Inflow can also be used for monitoring multiple customers for the same inventory sales
Pricing Plans
Since it is a desktop application, Inflow is offered at a one-time price of $399 per license.
The premium edition scales up to $799 for medium to large-sized businesses.
---
12. Best Business Process Management Software – Nintex Promapp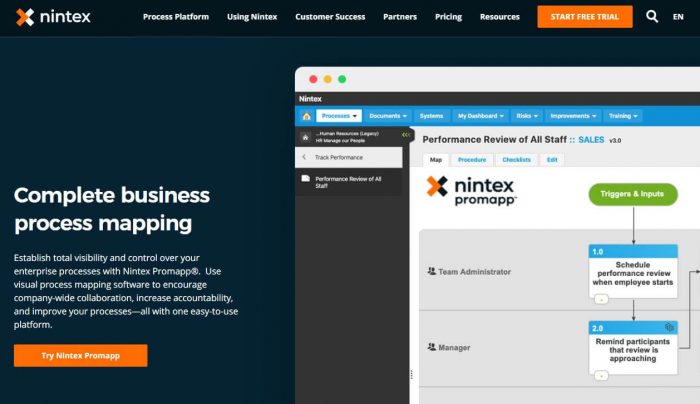 Nintex Promapp is a business process management software that helps organizations share process knowledge through a central repository. The tool is designed in a way that it facilitates the development of simple visual tools out of complex process maps, documents, and Visio charts – making it easy for your team to track changes in the process
Suitable for teams belonging to any industry and of any size, Promapp allows teams to collaborate together in real-time through a dashboard and easily monitor progress. By applying the 'processes I'm in' filter, you can gain access to only particular processes and then move forward along the way. You can also bookmark your favorite processes to further improve accuracy.
This business management software provides a comprehensive solution covering a broad range of processes ranging from basic document management to more elaborate workflow automation and built-in risk and compliance management, to name a few.
Key Features
Personalized dashboards
Configurable tags for identifying processes
Risk and compliance management
Automated workflow management
Documents management
Process variation management, along with cost changes
One-click process feedback
Integration with third-party apps
Pricing Plans
Nintex Promapp's pricing works on grounds of the number of processes added. The license starts from $950/month.
14. Best Business Marketing Software – HubSpot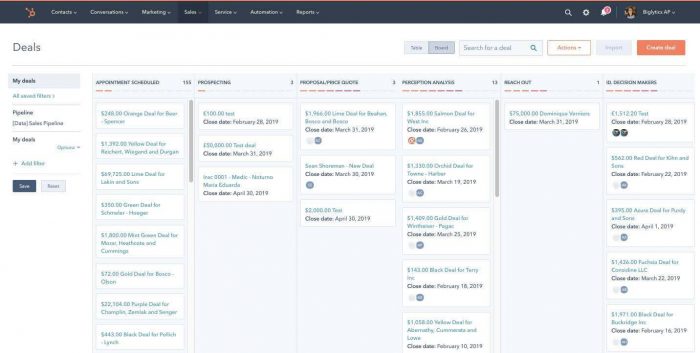 Hubspot is the next one of the best business management software you can use for marketing and sales automation. The software offers a wide variety of tools to cater to each and every aspect of your inbound marketing. It goes without saying that Hubspot is one of the most powerful marketing solutions one can go for.
From your website traffic and leads management, to more elaborate CRM and sales management, Hubspot seems to manage it all. Specifically designed to improve your time when it comes to sales management, Hubspot tracks every customer interaction down to the most basic details.
With features like email sequencing, email tracking, and prospect profiles, the software provides a single platform for automating tasks faster than ever. Through content strategy and SEO management tools, Hubspot makes sure your content reaches the right audience at the optimum time.
Key Features
Leads management
Website traffic management
Email tracking
Sequential emails
Templates and canned emails
Live chat on the website
Pipeline management
SEO and content strategy tools
Third-party access
Pricing Plans
The Marketing plan of Hubspot offers a Free plan, along with paid ones.
The paid plans start from $50 per month.
---
15. Best Business Resource Planning Software – ProductPlan
Moreover, you can collaborate with your team to create the visual roadmap of your product, apply estimates, building work in the process to let your team know the complete picture of your plan. It has an easy drag and drop interface that can help you make the product timeline, and remove the obstacle in the development phase.
To give your roadmaps a fun activity to create you can use different color codes for the progress bar, set milestones, and make a connection with dependent items with many other amazing features to nail your project.
Key Features:
Timeline and list view for roadmap based on dates
Create multiple roadmaps in your master plan for an entire product portfolio
Make use of the planning board to manage backlog items
Create milestones and set the connections between taskbars
Easy drag and drop functionality
Create a private link and share it with stakeholders
Pricing:
Business plan at $39/month per user when paid annually
Enterprise plan at $69/month per user
Enterprise Plus plan at $99/month per user
---
16. Best Business Live Chat Software – ProProfs Chat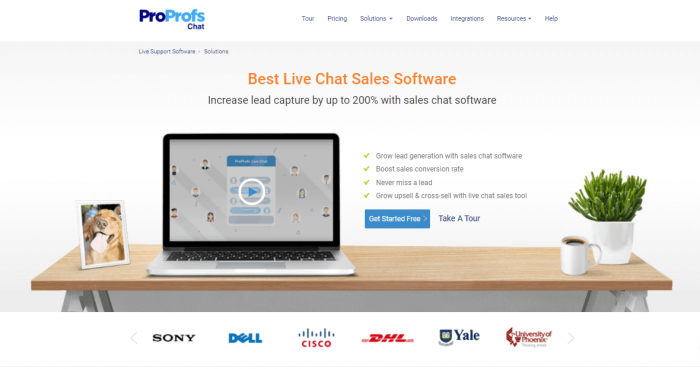 ProProfs Chat is a cloud-based customer support software that enables business owners to build delightful experiences for visitors with instant help. It even helps your support teams to connect faster with visitors in real-time and become more proactive with features like visitor monitoring and chat greetings.
Its detailed reports section helps you capture useful insights that assist your support team members to identify the problem areas faster and working towards improving future support experiences.
Key Features:
Using predefined messages to reduce response time
Reduce tickets by up to 80% with knowledge base integration
Share chat sessions with other operators in real-time
Announce sales, discounts, and upcoming updates
Set up automated greetings based on visitor behavior
Provide chat support in 70+ languages
Create a support bundle with 50+ integration options
Monitor chat operators closely and view reports
Pricing Plans:
Offers both free and paid plans to users.
Paid plan starts at $10/user/month.
You can try premium features with their 15 days free trial.
---
17. Best Business Work Management Software – Scoro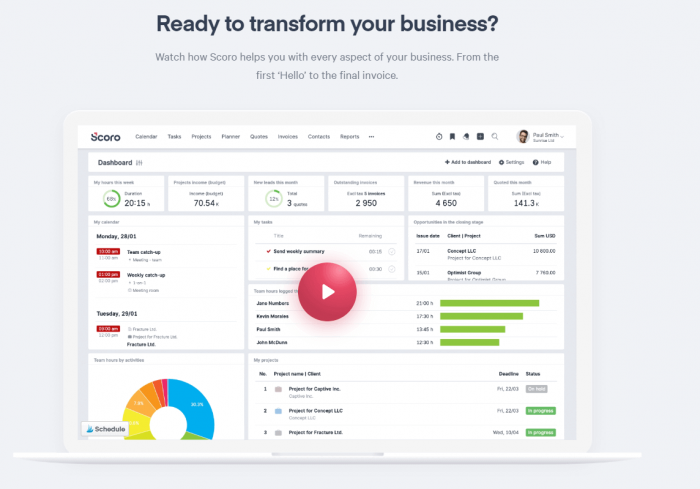 Next up on our best business management software roundup is Scoro. It is an all-in-one business management software that reduces shuffling between apps and helps improve your team's productivity.
Scoro helps you to track your business team's progress and share results in automated reports and dashboards. It empowers teams to collaborate effectively in a digital workspace. Its robust metrics and KPIs help managers to make data-driven decisions.
The app offers CRM, resource allocation, financial summary, budgeting, and project management features to bring the whole organization to one place.
Key Features:
High-level customized projects overview
Project timeline, priority assignment, and reduce overlaps
Timesheets and time tracker
Planner and Kanban task board
Contact details, files, quotes, and invoices
Identify the sales process
Tracking goals and performance
Pricing:
Free Trial
Essential plan at $26/month
Standard plan starts at $37/per month
Pro plan at $49/month
---
18. Best Document Management Software – PaperTracer
Finding suitable document management software is critical for the efficient working of an organization. Making sure that the software fulfills all the security requirements and is equipped with all the necessary features should be your first priority.
PaperTracer is an effective solution for document management. The tool is loaded with advanced features that can help you organize and manage your documents so that you can retrieve the necessary information whenever necessary and also keep your confidential files safe and secure.
The document management tool offers HIPPA-compliant solutions for better efficiency.
Key Features:
Create and integrate workflow, users, and data into the system.
Scan newly added documents
Drag and drop to add files
Use Optical Character Recognition (OCR) for quick retrieval of targeted information
Track edits made in the document
Workflow automation plays a critical role in improving productivity
Traditional Windows device access is secured with 2048-bit encryption.
Pricing:
PaperTracer offers three pricing plans for small, mid-size, and enterprise businesses, the pricing details can be obtained by contacting their team.
---
19. Best Data Management Software – Microsoft SQL Server
Microsoft SQL Server is an efficient tool when it comes to data management. Microsoft has already earned our trust with its unique and efficient solutions and the Microsoft SQL server is another one of its marvels.
The advanced features of the tool streamline your work and make it easy for you to store, manage and organize your data.
Key Features:
Analyzes all types of data
Available in multiple languages and across various platforms
Microsoft SQL server has one of the most secure databases
Offers big data clusters for more efficient data management
Integration with third-party apps
Pricing:
Express- $0
Web – Pricing depends on your hosting partner
Developer – $0
Standard-CAL – $209
Standard-server – $899
Standard-per core – $3586
Enterprise – $13758
---
20. Best Idea Management Software – Miro
Sharing ideas and building upon these ideas together requires more than just real-time chatting. You need visuals to transform your ideas and weigh the pros and cons with your team members. Fortunately, we have a solution for that as well in the form of Miro.
Miro is an online collaborative platform wherein team members can discuss their ideas on a whiteboard. Its usability is not limited to a canvas but extends to various other features including, creating workflows, designing, mapping, and much more.
With over 20+ million users Miro continues to revolutionize remote working with its efficient features.
Key Features:
Infinite canvas for mind mapping
Prebuilt templates
Wide variety of widgets
Collaborators' cursors help you see how they engage in the discussion
Easy screen sharing and presentation
Chat and communication options
Organization of projects into folders
20+ integrations
Pricing:
Free – $0 unlimited team members
Team – $8 per member per month
Business – $16 per user per month
Enterprise – Contact Team Miro for custom pricing.
---
The 5 best small business management software of 2022
Due to the hefty price tags involved and subscription-based pricing, smaller businesses are not normally able to procure the best small business management software solutions out there.
I've been in the project management sphere for many years now, so I thought I'd help all the small business owners out there who might be in need and search for the top small business management software solutions for 2022.
I reviewed over two dozen apps specifically created to help out small business owners.
Here is a short summary of the 5 best software solutions in this category:
Wix: Free Website Builder
Constant Contact: Email Marketing Software
Wave Accounting: Free invoicing and accounting software
nTask: Free Online Project and Task Management Software
Slack: Communication app